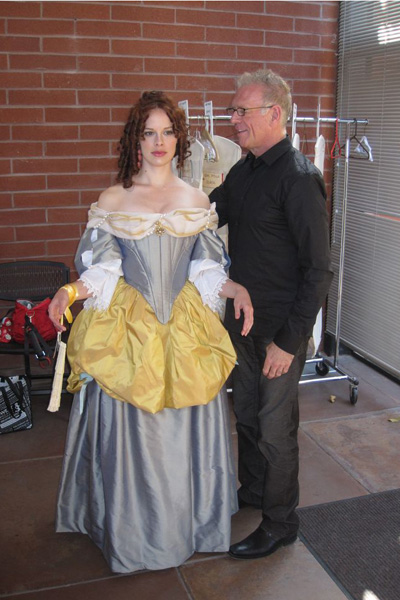 Jean-Louis Rodrigue choreographed the period movement for a remarkable and beautiful production of William Wycherley's restoration comedy The Country Wife, presented by the UCLA School of Theater, Film, and Television and the UCLA William Clark Memorial Library.
As one of UCLA's major libraries for rare books and manuscripts, the collection boasts particular strengths in English literature and history (1641-1800), Oscar Wilde, and fine printing. It is administered by UCLA's Center for Seventeenth-and Eighteenth-Century Studies.
The play was a terrific forum in which Jean-Louis drew upon his training in the study of period movement and particularly from his experiences studying Commedia dell'arte at Il Piccolo Teatro of Milano. The stock character movement of Commedia is an exceptionally demanding acting style, and thus proved a challenging yet rewarding way to ignite his passion for period movement. Jean-Louis later became an expert in 17th and 18th century movement in England and France. While living in France, Jean-Louis was exposed to the work of Moliere, and the intricate manners and period movement required for 17th and 18th century styles.
Amidst further training at the American Conservatory Theater, Jean-Louis' interest in this work was strengthened by his mentorship under William Ball, who was an expert in bringing to life the exuberant movement of the style in his productions (see his "Cyrano de Bergerac.")
The manners and customs of the period were not only enormously important in terms of telegraphing one's status in society, but also in communicating one's intentions. While the modern idea of movement is a fairly simple one, the process of changing position, place, or posture in the 17th century was far more complex. The four main categories of movement consist of: carriage or posture, motions (everyday activities as well as more complex performance activities as dancing), manners (performing social rituals), and address (bearing of the body during conversations).
Director Paul Wagar's production was masterfully staged in the UCLA library's drawing room. The baroque setting was imaginatively transformed with a "lit" fireplace and candelabra, period music, Reformation style costumes, and period movement.
The company consisted of actors from the UCLA MFA and undergraduate acting programs. The actors worked with Jean-Louis for a period of ten weeks to integrate the Alexander Technique as a way of connecting with their characters, fulfilling the requirements of the Restoration period movement, and wearing the elaborate costumes.