"Whether we're teaching a newcomer or an Academy Award-winner, our approach is the same. It's about choosing how you want to use yourself.
JEAN-LOUIS RODRIGUE & KRISTOF KONRAD
About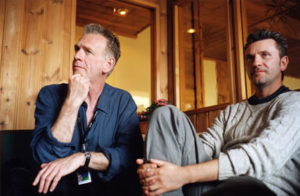 Jean-Louis Rodrigue and Kristof Konrad are the team that make up Alexander Techworks. They are internationally known as two of the most sought after acting coaches, performance experts, and movement teachers — collectively teaching the Alexander Technique in theater, film, and television for the past 38 years.
Alexander Techworks offers private instruction, training, coaching, group classes, and intensive workshops in Los Angeles, New York, Berlin, Toronto, Melbourne, and many other cities.

Ritesh Batra
Film Director
I often think of the things Jean-Louis Rodrigue and Kristof Konrad taught me with the Alexander Technique. The Lunch Box only got made because I was able to pitch it effectively after working with them.

Through body awareness and proper physical alignment, Kristof Konrad helps open up channels of energy that enable full presence of being . . . he will help you bring LIFE to every moment of a performance -- simple, unforced, bold, and electric!

Jean-Louis Rodrigue has a clear view of the character the actor is playing and also an awareness of the purpose and structure of the whole movie, which engages the actor's entire intention and responsibility with the project. His work is a useful and exciting way to open my channels for my research as an actress.