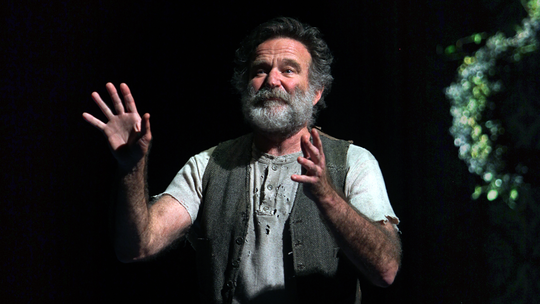 Robin Williams was wildly funny and inventive, deeply sensitive, and a profoundly generous person.
During his training at Juilliard, Robin studied the Alexander Technique with Judith Leibowitz, the first Alexander Technique teacher to teach at Juilliard. He loved his Alexander group classes and private lessons. This is probably where he found his ability to transform himself into so many different and memorable characters. It was at Juilliard and in these classes that he developed a friendship with Christopher Reeve, and the two became lifelong friends. Robin would later come to Reeve's aid after the Superman actor became paralyzed following a horse-riding accident in 1995. Robin Williams began his studies at Juilliard in 1973 but left the school without graduating in 1976. In 1991, Juilliard presented him with an honorary Doctor of Fine Arts Degree.
Robin's most recent stage role, and perhaps his most significant, was in the 2011 Broadway production of Rajiv Joseph's Bengal Tiger at the Baghdad Zoo. In the wartime drama, a heavily bearded Williams improbably played a captive tiger that is killed after it mauls an American soldier. Watch and listen to the video inside this New York Times article.