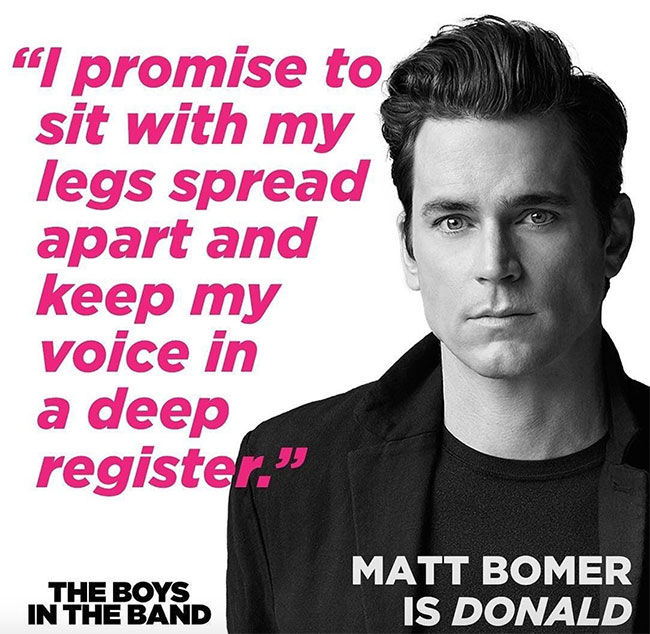 Jean-Louis coached Matt Bomer with his preparation as Donald in Mark Crowley's The Boys in the Band. They prepared for several weeks in March 2018 while the cast was rehearsing in Los Angeles — before they moved to the Booth Theatre on Broadway.
This is the second project of historical importance to gay liberation history that Jean-Louis has worked on with Bomer. The first was Larry Kramer's The Normal Heart for HBO, which earned Bomer a Golden Globe Award for Best Supporting Actor in a Motion Picture for Television.
Movies and television have played an immense role in getting us here — and I'm going to take some credit for the TV side . . . TV has been a powerful influence because it brings the lives of gays and lesbians into people's homes and that has increased people's understanding . . . (Michael Lombardo, programming president of HBO)
While at HBO, Lombardo has brought the gay-themed plays Angels in America and The Normal Heart to television, and has prominently featured gay characters on such series as Six Feet Under, Sex and the City, and Looking.
When The Boys in the Band premiered Off-Broadway in 1968 it was originally scheduled for a short limited run, but the show became an overnight sensation and went on to become one of the longest running Off-Broadway plays in history. This time around, Bomer joins a star-studded cast (including Zachary Quinto, Jim Parsons, Andrew Rannells, Charlie Carver) in the 50th anniversary production of this pioneering comic drama, directed by Joe Mantello and produced by Ryan Murphy.
SYNOPSIS: A group of gay men gather in an NYC apartment for a friend's birthday party. After the drinks are poured and the music turned up, the evening slowly exposes the fault-lines beneath their friendships and the self-inflicted heartache that threatens their solidarity.
Performances began April 30th and will run through August 12th, 2018.