Belcim Bilgin, born in Ankara, discovered the Alexander Technique while training with Kristof Konrad and Jean-Louis Rodrigue at the Talent Actors Stage, a program at the Berlinale Talent Campus last February.  The experience was so profound that she decided to pursue further training with Kristof in Los Angeles.  Bilgin comes back regularly between work to prepare for her roles.
While working on her first film Kilometer Zero in Paris, she also received instruction in the French language at the Sorbonne School of Languages. In 2005, Kilometer Zero was released and entered in the 2005 Cannes Film Festival to great success.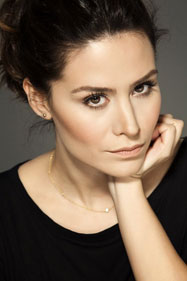 Bilgin took the leading role in Rezan Yeşilbaş's short film Silent (Be Deng), which received the Palm d'Or for Best Short Film at the 65th Cannes Film Festival. Most recently she has been working on her upcoming film, The Dream of a Butterfly (Kelebeğin Rüyası), which was set in 1940s Turkey, recounting the lives of Zonguldak-based authors, Rüştü Onur and Muzaffer Tayyip Uslu. The film screened in competition at the last Cannes Film Festival.
Watch the The Dream of a Butterfly trailer here.
Watch Bilgin working with Jean-Louis Rodrigue & Kristof Konrad at Berlinale Talent Campus #11 here.