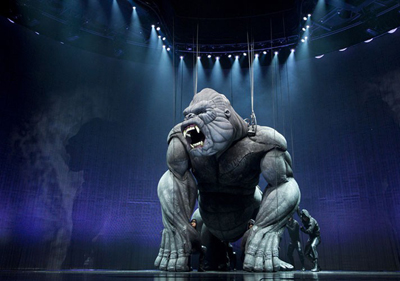 King Kong, Live on Stage opened last June in Melbourne to understandably mixed reviews because of its history and it's still a work in progress. Gavin Robins as the Aerial/Circus Director, Peter Wilson as Puppetry Director, and Sonny Tilders as the Creature Designer are breaking new grounds in theater technology as well as in physical theater movement. The actual 13 puppeteers have been trained by Gavin and are called the King's Men.
Working hand-in-hand with Tilders and Wilson is Aerial/Circus Director Gavin Robins, a former member of the aerialist group Legs On The Wall and now a worldwide specialist in circus and physical theatre. Most recently, a Churchill Fellowship has taken him through the US investigating the latest technologies in animating the body for stage and screen. Among the experts he trained with in the U.S., movement specialist Jean-Louis Rodrigue was one of the most important and useful. Says Robins:
The training Jean-Louis gave me has empowered me with new approaches to develop signature gestures for character, a detailed knowledge of period movement and manner, principles and application of Alexander Technique, analysis of animal behavior, and image work. When I heard about KONG, I thought: this is exactly how I would love to be working – with new technologies and physicality.
Robins will be working across the production, however with Kong, his brief is focused on The King's Men – 13 highly skilled, extremely strong, physically virtuosic young men who are versatile enough to embrace puppetry skills as well. Says Robins: "We are championing this notion of a brute strength emanating from Kong. The King's Men are representing the persona, the aura and the real male energy of Kong."
At a higher level, Wilson aims to understand the "breath" of Kong, as all good puppeteers do. "It's most important that our audience sees that he is breathing: that he's got a brain or an intelligence and that he is capable of making decisions."  The challenge for Wilson, the performers, and the technicians who will manipulate Kong is to maintain that emotional engagement for every second he is on stage, so the audience will suspend their disbelief throughout his entire journey.
Click here to watch "Kong is Revealed."
SOME REVIEWS: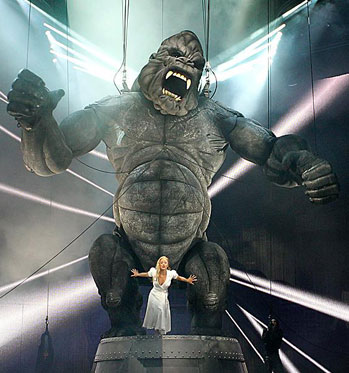 The real star of the show, however, is Kong himself. The 6m-tall ape towers over his co-stars, with a combination of marionette puppet and animatronic robot technologies making him alarmingly lifelike . .  . when Kong emerges though, his carefully synced footsteps thundering impressively through the theatre. His 13 puppeteers are a sight to behold as they scramble up the beast's back and fly from his shoulders to operate his limbs.
~ Channel 3 News
. . . when you're watching Kong on stage; this astonishing puppet, eyebrows that could put Gromit to shame, strings and operators fully on show in a way that only makes him more incredible. And he is undoubtedly a remarkable theatrical achievement.
~ The Guardian, UK
Even his on-stage and off-stage operators get rousing applause for their feats of athletic puppetry and animatronic operation.
~ Herald Sun
Oh King Kong!  You gorgeous, sexy, magnificent beast. Your entrance may be the most spectacular thing ever seen on a live stage. Every time you're on, the audience is yours for the taking, as all around you pale to dull, despite all manner of shiny costume. You are glorious and unforgettable.
~ Anne-Marie Peard, Aussie Theatre